On Amplify Austin Day, you are able to go to one place to find 700 mission-driven organizations providing real and tangible solutions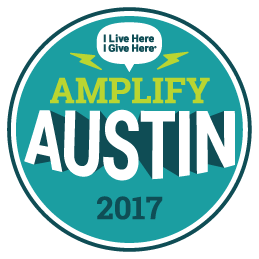 Amplify Austin and Amplify Austin Day are produced by I Live Here, I Give Here, whose mission is to cultivate the power of giving back. Programs such as Amplify Austin Day, See Jane Give, Give Back Jack and Austin Involved are designed to encourage participants to find the issue they care most about and take action to become part of the solution. For more information, visit ILiveHereIGiveHere.Org.
Why Amplify Austin Day?
I can give you 24.7 million reasons why this online movement is important to our Central Texas region.
We all know the many challenges our growing area faces. We also know the things we love the most about our city – those things that put us at the top of every list. These issues we tackle and things we love are all supported by an important nonprofit infrastructure. They are providing the programs and services to make this a vibrant, sustainable and equitable community for all.
On Amplify Austin Day, you are able to go to one place to find 700 mission-driven organizations providing real and tangible solutions. A donor can make a donation to an old favorite as well as add a new nonprofit to the checkout cart. All of these small donations are adding up to BIG impact.
I Live Here, I Give Here has built this campaign for the benefit of the whole community to make a powerful connection between the donor (changemakers) and nonprofits (solution providers) that will make this the best place to live, work and play.
National Scope
Giving Days started in 2009 and are in many cities across the nation. Many are local homegrown efforts to rally a community to give. There are some national and international giving days that have evolved like Giving Tuesday and Give Local America.
The Knight Foundation, which has built a Giving Day Initiative, supports 18 giving day organizers to encourage informed and engaged communities and innovation in digital technologies. Over the last four years, those 18 communities have raised $116M while engaging 367,000 donors and mobilizing over 20,000 participating organizations…and growing!
In Central Texas
Since the first Amplify Austin Day in 2013, I've witnessed this 24-hour campaign raise almost $25M for hundreds of local nonprofit organizations that serve the entire community. Over 160,000 individual gifts from individual donors, like you, and companies have made this impact possible.  
This campaign is a gateway for local philanthropy. Nonprofits attest the largest benefits of the Day, in addition to funding, are the increased visibility on the whole sector; immediate call to action for donors; and a new, younger donor pipeline walking through their doors. Of all gifts given during the last Amplify campaign, 40% were first time donations. And 31% of the AmplifyATX.org site users were millennials.
Amplify donors report that the top motivations to give on the Day are the stories and missions they read about on social media or on the site. It's also because the impact of the Day is happening in our backyard.
The campaign uses the power of collective giving, online peer encouragement and social media. This Day is fun and different. Nonprofits are able to compete for bonus prize dollars and donors are able to maximize their giving because of matches and incentives created by the Day.     
It is up to Us!     
Amplify Austin Day is produced by I Live Here, I Give Here, a nonprofit organization itself, dedicated to cultivating the power of giving back and engaging the next generation of givers. For all the reasons I listed above and then some, it is important to the 700 nonprofits that this movement is sustainable and continues to grow.
According to Charity Navigator, 71% of all charitable giving in 2015 was made by individuals – that means YOU and ME!
This Day engages individuals to make donations, fundraise for a favorite nonprofit or engage in giving with co-workers – all supporting our favorite causes.
So I look forward to seeing you on AmplifyATX.org on March 2 & 3. It is up to us to care for this place we love and call home.
-Celeste Flores, Executive Director, I Live Here, I Give Here
Here is how you can use Amplify Austin
Amplify Austin makes it possible for anyone to make a donation to his or her favorite cause or to create a fundraising page at any time-whether it's for a special event or a specific project. The site is also a starting point to giving for newcomers or new companies to the area. Central Texans can visit AmplifyATX.Org 365 days a year to give local.
Be a Donor. Join us anytime and make a gift(s) to any of the hundreds of nonprofits participating on AmplifyATX.Org. You can search organizations by category, county, keyword, or by program.
Be a Fundraiser for a nonprofit. You or your family has a passion: it could be for animal welfare, fighting poverty, supporting the arts, or raising awareness about mental illness. We bet you have a wonderful network of friends and colleagues in your life. AmplifyATX.Org offers you a vehicle to connect your passion(s) and your network by creating your own personal campaign to raise money for local nonprofits supporting your passion. As fundraiser, you set the goal, you get the word out, and you become a champion for your cause. CREATE AN ACCOUNT HERE
Be a Business Fundraiser. We know Central Texas is full of passionate and generous businesses that champion causes right here at home. So get your employees to come together and donate to their favorite causes on Amplify Austin Day. We think a little competition between departments or with another business is a good idea, too. SIGNUP HERE
Be a Sponsor.  Sponsors drive the success of hundreds of nonprofits during Amplify Austin Day. Businesses and individuals can donate to the Amplify "stretch" fund, to incentivize gifts made on Amplify Austin Day. The stretch fund will make everyone's dollars go further on Amplify Austin Day maximizing the benefit to the participating nonprofits. We also award grand prizes and hourly prizes to nonprofits that really knocked it out of the park on the giving day — be a prize sponsor! Become a sponsor today and give back to the community that we all love so much! For more information on sponsorships, contact Celeste@ILiveHereIGiveHere.org.
Be the choice for donors. Nonprofit registration for Amplify Austin is open! Click here to register!  
Tools & Resources