(pic- Lightning & Blue Bonnets. Robert A Boyd Fine Art.)
4/12/17 – 4/16/17
Fusebox Festival
Various Locations
Fusebox is a hybrid arts festival that champions adventurous works of art in theater, dance, film, music, literature, visual and culinary arts. The festival takes place over 5 days in venues and locations all over the city. Hundreds of local, national and international artists across all disciplines converge for one of the most unique cultural events in the country.
www.fuseboxfestival.com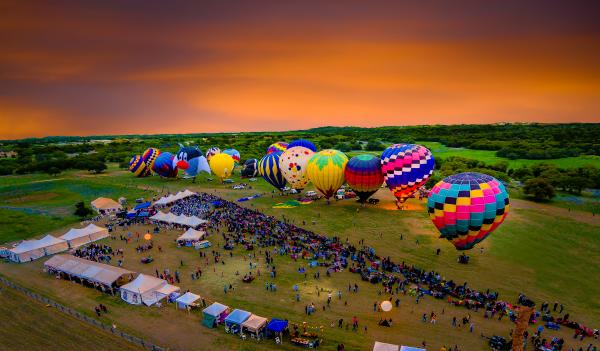 Balloons Over Horseshoe Bay Resort. Courtesy of Joe Purvis.
4/14/17 – 4/16/17
Balloons Over Horseshoe Bay Resort
Horseshoe Bay Resort
More than 20 hot-air balloons from across America will converge at the annual Balloons over Horseshoe Bay Resort. This year's festival will feature tethered balloon rides, live music by local legend Bob Schneider and more, and the annual evening balloon glow.
balloonsoverhsbresort.com
4/14/17 – 4/16/17
Austin Reggae Fest
Auditorium Shores
A fundraiser for the Capital Area Food Bank, Reggae Fest features three days of reggae, world and dub talent, along with more than 50 vendors selling food and arts & crafts.
www.austinreggaefest.com
4/19/17 – 4/22/17
Moontower Comedy & Oddity Festival
The Paramount Theatre and other locations
Moontower Comedy & Oddity Festival presented by the Paramount Theatre brings to Austin, TX some of the funniest, wittiest and oddest world-class comics from around the globe. National headliners, up-and-comers and local Austin-based comedians ensure three hilarious days of fun.
www.austintheatre.org
4/20/17 – 4/23/17
30th Annual Old Settler's Music Festival
Salt Lick BBQ Pavilion
Central Texas' signature music event featuring Grammy-winning Americana, arts and crafts, camping, food and libations. Acoustic jazz, blues and bluegrass are all performed by old-time local favorites and award-winning artists from around the world.
www.oldsettlersmusicfest.org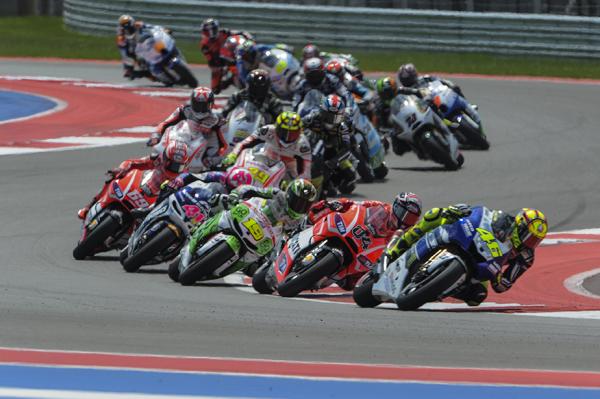 MotoGP at Circuit of The Americas. Credit JP Rice.
4/21/17 – 4/23/17
MOTOGPTM Grand Prix of The Americas
Circuit of The AmericasTM
MotoGPTM, the pinnacle of all motorcycle World Championships, joins the roster of racing events at the Circuit of The AmericasTM track with a three-day series at the purpose built Grand Prix venue. With the addition of this race, the new circuit is the first North American racing venue to host both two-and four-wheeled World Championship events in one year's time.
www.circuitoftheamericas.com/motogp
4/22/17
Earth Day Austin
Huston-Tillotson University
Go green in Austin! This free, annual Earth Day event is a celebration of Austin's green initiatives. Attend panels and workshops, watch new films and documentaries, interact with hands-on activities and installations and enjoy live music and eco art.
www.earthdayaustin.com
4/22/17
Weird Homes Tour
Around Town
This wacky annual event showcases what "Keep Austin Weird" is all about. Tour a selection of the most creative homes around town and meet the homeowners who keep our wacky culture thriving.
www.weirdhomestour.com
4/23/17
Capitol 10K
Congress Avenue to Auditorium Shores
Texas' largest 10K race and one of the nation's top runs draws some 18,000 serious and not-so-serious runners.
www.cap10k.com
4/28/17 – 4/30/17
Austin Food + Wine Festival 
Auditorium Shores and Republic Square Park
Pamper your palate in one of the hippest cities in the country at the Austin Food + Wine Festival. Join top chef talent, sommeliers and winemakers from across the nation and Austin's own acclaimed gourmet scene for an indulgent, three-day epicurean adventure unlike any other, topped off with live musical performances.
www.austinfoodandwinefestival.com
4/29/17
25th Annual Historic Homes Tour
Bouldin Creek Neighborhood
Explore South Austin's eclectic Bouldin Creek neighborhood with this year's Historic Homes Tour! From the Old World charm of stone Victorians to the postwar lines of the International Style, the event includes five gorgeous houses and the historic Texas School for the Deaf campus. Each unique, irreplaceable property tells a different story about Bouldin's evolution into the dense urban community we know today.
www.preservationaustin.org
4/29/17
54th Annual Eeyore's Annual Birthday Party
Pease Park
Live music, local beer, food, acrobats and costume contests surround this annual gathering of Austin's most eclectic locals. Eeyore's Birthday serves as fundraiser to benefit many local non-profits.
www.eeyores.org
What's on your calendar for April in Austin? Let us know on Facebook, Twitter or Instagram using #TrueAustin!