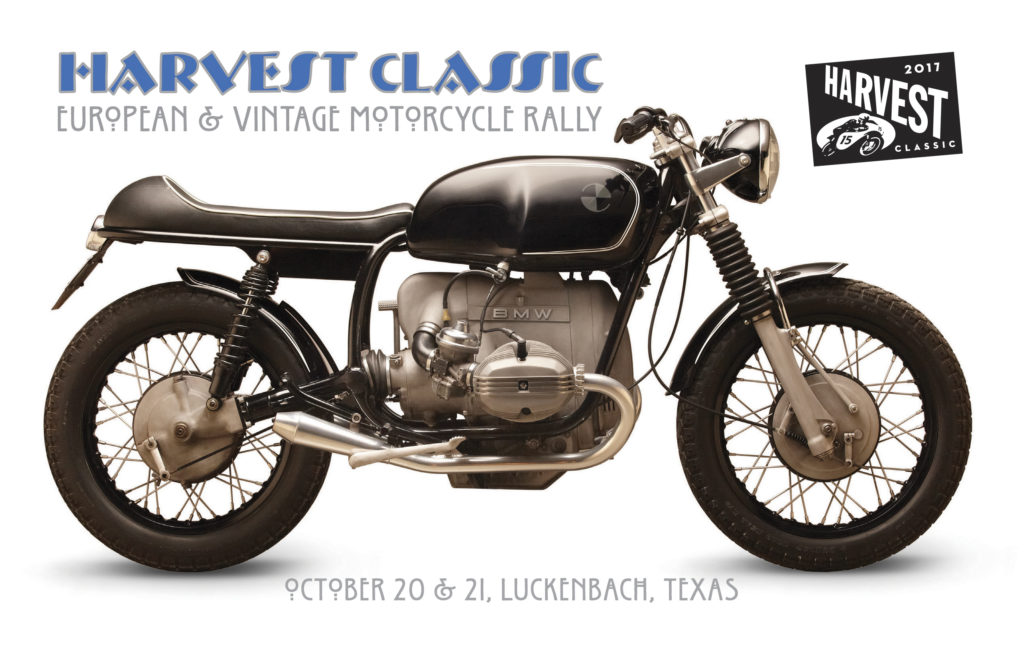 The Harvest Classic is a motorcycle rally held each fall in Luckenbach, Texas. This year, the rally will be held on October 20 and 21.
If you like old and odd bikes, this might the place for you. We are nuts for the vintage and European motorcycles. We also like trials bikes, concourse-quality antiques, home-built specials, vintage racers, unreliable daily riders, small-bore tiddlers, Italian Beasts, scooters, British bikes, kitted-out mopeds, cafe racers, and old Japanese stuff. Whether you are a grizzled old gearhead (aka olde fart)  or have recently drunk the kool-aid, we invite you to ride out to Luckenbach and join us for a weekend of celebrating these old bikes!
The 2017 Harvest Classic will be our 15th anniversary rally. We can feel it in the air- this year is going to be a blast! Our friends at CTTA have turned it to 11, and are bringing a pro-level Trials competition that will be held in and around Luckenbach on Saturday. We are also stoked to announce that The Alamo Drafthouse will be playing a recently restored copy of 'I Fidanzati Morte', which is an amazing vintage Italian film about roadracing, love, and passion……with Moto Guzzi racebikes! Scoot your boots to Two Hoots and a Holler on Friday night, and enjoy the striking baritone of Cash'd Out on Saturday!
Come to the rally, ride home on a new bike! (maybe)
Bid on our poster bike in the Live Auction. It's a beautiful custom BMW R100 donated by Matt and Anne of Austin Paintworks. You would look so good on this bike.
Go big in the silent auction for a sweet 1970 Triumph TR25W, donated by our good friends Stan Simpson and Dave Sutton. This little thumper will make your heart go pitter patter.
Buy a $5 raffle ticket, and you might win a 1979 Suzuki GS1000, donated by our good friends Fred and Maggie Beck. You know you want it. Who in their right mind wouldn't want to win a sweet running OG superbike for $5???!! Ask yourself one question. What would Wes Cooley do?
In 2017, Join our merry team of motorheads who come from all around to enter their European, Vintage, and Competition bikes in the bike show, participate in  or watch the vintage trials, eat home-cooked barbecue, win swag (or a bike) in the insanely good raffle, go big for the kids in the live auction, act like a goof on Friday's 100cc Fun Run, watch a big-screen outdoor movie, listen to great music, pick up some choice bits at the swap meet, camp under the stars, immerse ourselves in moto-culture, and rub elbows with kindred spirits. Our rally attendees, sponsors, and all-volunteer staff throw down hard to raise a ton of money for the Candlelighters Childhood Cancer program of Any Baby Can, which really makes a difference in the lives of families who are living with/ battling childhood cancer.
Like our Facebook page, and follow us on Instagram under @harvestclassic.
If you like farting around on little bitty motorcycles, then you might like the 100cc Fun Run, which is held every rally weekend on Friday afternoon. Check out the Events page for more info.