Explore the unique and beautiful regions of Texas through nine interactive driving maps!
Whether you are a birder, a wildlife enthusiast, or just want to see the wild side of Texas, these nine driving trail maps will lead you to the best spots to see birds, butterflies, bats, pronghorns and more. What will you discover?
Loops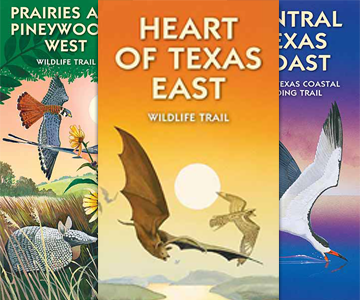 Purchase Printed Maps.
Order yours online now.
Order a set of Great Texas Wildlife Trail maps today for $25, or get a single map of your choice for $5. To order, simply download the order form. For questions or large map orders, call (512) 389-8697. Sign up for e-mail updates from Texas Parks and Wildlife to get the latest news, information and events!
Park Passes
TPWD offers a variety of passes: